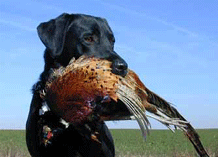 I am writing this letter in
appreciation of
the Family Hunting Club...Being able
to reserve properties that you know have
been rested
for a number of
days makes the hunting a lot more
productive...THE CLUB
has picked up some
of the finest
Pheasant properties
along with goose
and duck properties.
THE management of
the land has been
handled in a
professional manner
so that every member
should have a good
opportunity at
quality hunting"
Boyd
(Member 21 years)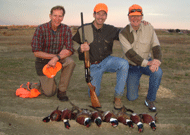 "Thanks for your outstanding
efforts in keeping
this CLUB moving forward.
Nothing like hunting Quail
on the Family
Hunting Club
with your property reservation
system I am always
assured of
rested property
that holds lot
of Quail."
Hank
(Member 33 years)